Greetings,
Introduction
This is a suggestion to change the module system. I know it's a lot of work guys, but i think the quality of this system is much better then the current "grid" system. The grid system is outdated, and tacky. changing this system delivers a great product and helps players significantly improve on builds, and helps make balance much easier.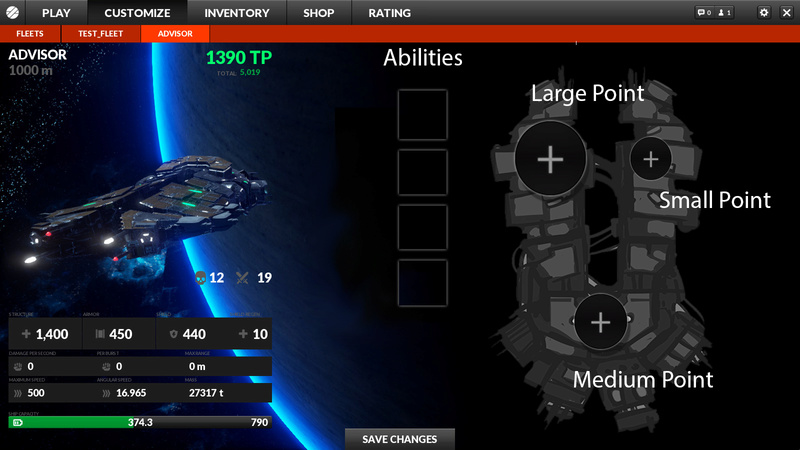 The Idea is to remove the grid system, and add "hardware points" to the ships.
In the above picture you can see small, medium, and large points.
Next,
Each ship will now have key systems for the hardware points
- Energy: For Reactors to power the ship.
- Engines: For Engines to generate speed, and movement
- Defensive Slots: For Armor and Shielding
- Weapon Slots: For Weapons
- General Slots: For all other systems then the above.
Next,
Abilities will no longer be part of the Layout System. Instead each type of hull will have 0-4 ability slots. This will allow for more build diversity and freedom, as well as empowering some ship types over others (for example all engineering ships).
- Special Slots: For Abilities.
Next,
Ship Systems will be changed.
Ship Mass: This will remain the same
Module Costs:
- Modules will cost Credits, Warp Points, and now Energy
- Modules will now have two groups. Energy use, and Non-energy use.
Energy using modules will be: Engines, S hields, Beams, Energy Cannons/Missiles Etc
Non-energy using Modules will be: Armor, Cannons, Missiles (ammo Using weapons) Etc.
Important: the new module system will need "reactor" for powering. A bonus will be given if energy is high. Allowing for ships to gain 20% Beam damage, 20% movement speed or turning, 20% Bonus to Regeneration of shields.
All ships will need power to power engines, or engines will go offline, along with other weapons and modules. This is for new weapon types (energy drain) later.